The Desert Warrior: A Memoir
September 2017


The Desert Warrior is an extraordinary memoir of trauma recovery and resilience, while providing a fascinating look at one soldier's return from the early, grisly years of the Iraq war.

After losing her money, possessions, and fiancé, a soldier returns to the U.S. from war feeling disconnected from family, friends, and everyday American life. When she encounters rejection from her compatriots and the VA as a female combat veteran, she decides to embark on a global odyssey to find her own true meaning of "home."

While she may appear different than most as a multiracial woman who was one of the first women who served in direct combat operations in the U.S. military, this wandering soldier explains how we all share the universal desire for acceptance, love, and a secure place to call home.

The Desert Warrior drops the war-glamorization cliché and compassionately addresses the personal, practical, philosophical, and identity issues surrounding trauma survival. Delving into a surreal world of art, spirituality, and wanderlust, Dallocchio invites readers on an intimate journey around the world where they will gain an understanding of one soldier's life while uncovering truths about their own.

Through childhood abuse, generational trauma, combat exposure, failed relationships, microaggressions, and violence, Dallocchio sheds light on the numerous ways pain complicates everyday life while illuminating a path toward passion, purpose, and a life worth fighting for.



​

Everyday Chamorro: Chamorro Language Phrases for Beginners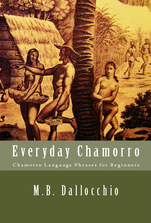 Learning a language isn't an easy task, even if you're the type who's more linguistically inclined. However, when one is learning a rare language such as Chamorro, the indigenous language of the Mariana Islands, using it in everyday conversation can be extremely intimidating. In "Everyday Chamorro: Chamorro Language Phrases for Beginners," you'll find a variety of tips, common phrases, and cultural tidbits that will help you on your way to achieving your language goals. Whether you're learning Chamorro because it's part of your heritage, for pure polyglot curiosity, or just to learn a few phrases to be a polite visitor to the Marianas, "Everyday Chamorro" can be used as a resource in navigating a variety of basic conversation topics from travel and family interaction to everyday tasks and more.
Purchase:
Kindle
|
Paperback
Quixote in Ramadi: An Indigenous Account of Imperialism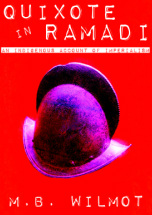 Click to Purchase
"Quixote in Ramadi: An Indigenous Account of Imperialism" is a dark humor novel that is introspective and witty, despite dealing with the serious issues of childhood abuse, neo-colonialism, homicide, genocide, and ethnic persecution. It tells the story of an indigenous female soldier in the US Army who deploys to Iraq at the height of the tension of the Fallujah massacre and the Abu Ghraib scandal, and faces unexpected catastrophes and corruption. While her command leadership frivolously spends defense funds in Baghdad's Green Zone and turns local Iraqis into personal servants, she is sent along with three other soldiers to one of the most dangerous cities in 2004, Ar Ramadi. In Ar Ramadi, she faces direct combat while performing checkpoint operations, personnel searches and house raids with Marine infantry units in addition to losing friends, earning the trust of locals, and responding to military suicides and homicides in the region. This takes place all while her command severs their supplies, escalates persecution of minorities in the company, and launders thousands of dollars in defense funds intended for equipment and radios for those in austere regions like Ar Ramadi. This unit, ironically, is an Army mental health company. A Jewish officer and the indigenous soldier fight the command and are threatened with imprisonment. Although they faced brazen retaliation, they refused to be terrorized into submission. The soldier confides in her predominantly male Marine counterparts of the abuse taking place, who then encourage her to take matters into her own hands. The soldier is forced to confront the powers that be and finds herself facing the same trials as her ancestors. She fights to prevent the same history from repeating itself in Iraq. Throughout "Quixote in Ramadi," flashbacks to child abuse, racial inequality, and family history are tied in to reveal myriad social and racial injustices that still exist in the United States. Purchase:
Kindle | Paperback
War Trauma and Its Wake: Women Warriors Chapter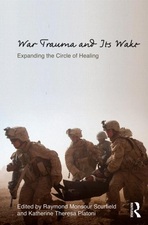 Click to Purchase
Decades after Charles Figley's landmark Trauma and Its Wake was published, our understanding of trauma has grown and deepened, but we still face considerable challenges when treating trauma survivors. This is especially the case for professionals who work with veterans and active-duty military personnel. War Trauma and Its Wake, then, is a vital book.
The chapter, Women Warriors: From Making Milestones in the Military to Community Reintegration, covers a broad range of military women's history while addressing pertinent topics, statistics, and sometimes taboo subject matter. This text has been used in training mental health professionals across the nation, both military and civilian, in addition to advanced university studies. In hopes of improving the understanding of such an underrepresented group, the Women Warriors chapter sheds light on various issues regarding gender roles and obstacles that are not often discussed.
The editors—one a Vietnam veteran who wrote the overview chapter on treatment for Trauma and Its Wake, the other an Army Reserve psychologist with four deployments—have produced a book that addresses both the specific needs of particular warrior communities as well as wider issues such as battlemind, guilt, suicide, and much, much more. The editors' and contributors' deep understanding of the issues that warriors face makes War Trauma and Its Wake a crucial book for understanding the military experience, and the lessons contained in its pages are essential for anyone committed to healing war trauma.